UD 1002 – CD Player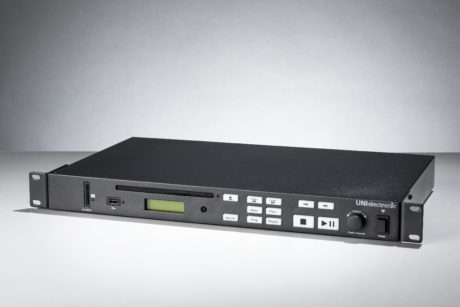 The ideal music source for all modern digital media and file formats, such as CD, USB media or SD/MMC cards. High operating comfort thanks for large, backlit rubber keys. New feature: the singple-play function and pitch control for the drive. The 19" brackets are removable.
Optionally, an RS 232 interface (UAC5) or an RS232/ Ethernet interface (UAC5E) are available for remote control using the RS 232 protocol, iPhone app or 6 analog control inputs.
Optional IR remote control.
Technical Data:
Name:
UD 1002
Item no.:
105114
Power input:
230 V (50/60 Hz)
Power consumption:
50 VA
Media formats:
CD, CD-R, CD-R/W, USB, SD/MMC
File formats:
MP3, WMA, audio CD
Output Level:
1kHz, 0 dB 1.2 V (+/- 2 dB)
Transmission range:
20 Hz - 20 kHz
Total Harmonic Distortion (THD):
< 0.1 % (1kHz)
Signal-to-noise ratio:
> 70 dB
Options:
IR Remote Control
RS 232 analog / Ethernet interface
Supported file sizes:
USB up to 160 GB, SD up to 32 GB
Dimensions (in mm):
44 x 482 x 250 (1 RU)
Weight:
3.4 kg
Downloads: