UMA 7120PB – Mixer Amplifier with MP3 Player and Bluetooth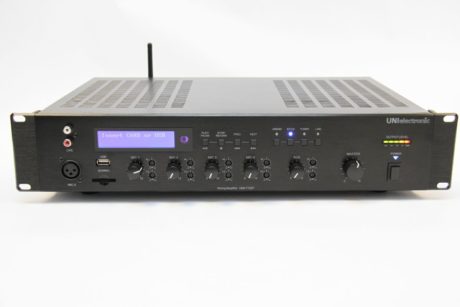 The UNIelectronic UMA 7120PB with an integrated media player and Bluetooth is the all-rounder among the PA systems thanks to its extensive range of features. Its robust design, high reliability and unbeatable value for money make it the number 1 choice for small and medium-sized sound projects. 120 W output (100 V or 4 Ohm) offer ample performance.
A line output ensures that further power amps can be added whenever necessary. The levels for all five input channels can be adjusted at the front. A separate hi/lo tone control ensures optimal adjustment to the prevailing room acoustics. One cinch line input and one XLR mic input each are located at the front. An LED chain indicates the amplifier's output. The UMA 7120PB offers four microphone inputs (XLR) with 48 V switchable phantom power for each individual input. What is more, priorities can be set of each of the microphone inputs. An RJ45 call station input with pre-gong is provided for mic 2.
The gong and DIN-alarms can be activated using the control inputs. With the Mute All Function it is possible, to mute all signals at the speaker output by dry contact. Furthermore, the UMA 7120PB features a priority output which can be used to access the priority relay. The pre- and power amps can be split, so that an equalizer (for example) can be looped. A switchable duo- or fourtone gong rounds off the generous comprehensive range of features. The UMA 7120PB can be operated using a 24 V DC emergency power networks.
In addition, the UMA 7120PB has an MP3 player which can play from USB- as well as SD-media and an Bluetooth Function. A remote control is included with the player.
Product Video
Technical Data:
| | |
| --- | --- |
| Name: | UMA 7120PB |
| Item no.: | 104128 |
| Power supply: | 230V (50/60 Hz) |
| Power consumption: | 200 W |
| Power consumption at 24 V DC: | 8 A |
| Power output: | 120 W sine (100 V/8 Ohm) |
| Frequency range: | 50-18,000 Hz |
| Total Harmonic Distortion (THD): | < 0.5 % (1 kHz) |
| Sensitivity/impedance: | Mic 1-4: 2.5 mV at 2 kOhm |
| | CD/Tuner/Line: 350 mV at 10 kOhm |
| Outputs: | Speaker 100 V, 70 V, 8 Ohm |
| Signal-to-noise ratio: | > 50 dB |
| Tone: | Bass: +/- 10 dB at 100 Hz |
| | Treble: +/- 10 dB at 10 kHz |
| Chime: | 2-/4-tone |
| Dimensions (in mm; HxWxD): | 88 x 484 x 303 (2 RUs) |
| Weight: | 10 kg |
Accessories:
Downloads: